According to the lawyers of the Human Rights Center Fray Bartolomé de las Casas (Frayba), the trial against Yonny presents a series of irregularities, such as forgery of signatures, attribution of crimes unrelated to the accused and fabrication of testimonies by the prosecutor's office in Chiapas, Mexico.
Frayba confirms that Yonny's case is just one example among many of the fabrication of unconfirmed convicts carried out by Mexico's judicial authorities.
The UN Special Rapporteur on Torture expressed their extreme concern about widespread torture in Mexico during their last visit to the country, concluding that:
"Torture and cruel treatments during the moments following arrest and before being brought to justice is widespread in Mexico and occurs in a context of impunity."
According to national and international organizations, including Amnesty International, OMCT and the Prodh Center, arbitrary detention is a common practice in the country and the risk of arbitrary detention increases exponentially for those in a vulnerably situation; in particular, it affects indigenous people, people living in poverty and human right defenders.
In addition to these trends, only 1.3% of crimes committed reach a sentence, which makes Mexico one of the countries with the highest levels of impunity in the world. Sin Embargo and La Jornada report that Chiapas is the state with largest number of people (199) who were released in recent months thanks to a presidential decree that provides for the release
According to the Televisa news report 
of people who were tortured, people charged without conviction, adults over 70 years, adults over 65 years with chronic diseases, and indigenous people without a proper defense.
At the time of his arrest, Yonny Ronay Chacón was living with his parents in Cintalapa in southern Mexico. He was arrested on March 13th 2019 in Tuxtla Gutiérrez from where he was then taken to the High Impact Prosecutor's Office. He was tortured and later on transferred to the CERSS 8 penitentiary center, in Villaflores, Chiapas, where he is currently located.
A recent news report by the mexican tv channel Televisa, shows the irregularities of the legal process that detect Yonny accused. Among them, two letters signed by medical expert witnesses from the prosecutor's office in Chiapas, confirming that they did detect Yonny's injuries after the arrest. On March 14th, while Yonny was already detained, the prosecutor's office released a photo that exposes him as a member of a gang carrying heavy caliber weapons. 48 hours after his arrest he was released but the prosecutor's office then detained him for the crime of homicide and robbery with violence, despite the fact that these crimes were committed in Villaflores although Yonny was working in Cintalapa at the time.
Yonny's defense attorney Jorge Gómez from the Human Rights Center Frayba adds that while Yonny was imprisoned in Villaflores "The prosecution office used his driver's license and forged his signature to use as testimony to sentence two other people".
According to the Televisa news report, the public servants were never investigated for the fabrication of evidence, and on September 6th 2021, Yonny was sentenced to 31 years and six months in prison.
The Fray Bartolomé de las Casas Human Rights Center, on September 23th 2021, filed an appeal and with it they managed to restore the oral trial. SweFOR has been accompanying the case since last year to ensure access to justice, a fair and impartial trial and public hearings.
Thanks to the accompaniments during Yonny's case, so far during 2022 SweFOR has been able to verify how 3 hearings have been suspended without prior notice. Additionally, the judge did not allow Yonny's three defense attorneys to enter the oral trial, referring to sanitary restrictions of the court due to Covid19 which for Yonny's defenders means that "Yonny's defense is being limited, as well as the right to due process".
On February 4, the judge accepted the participation of two defenders during the oral trial, only to suspend the next hearing a few days later, on February 11th. That day, SweFOR had the opportunity to enter CERSS 8 and meet Yonny, who then shared the following message with us: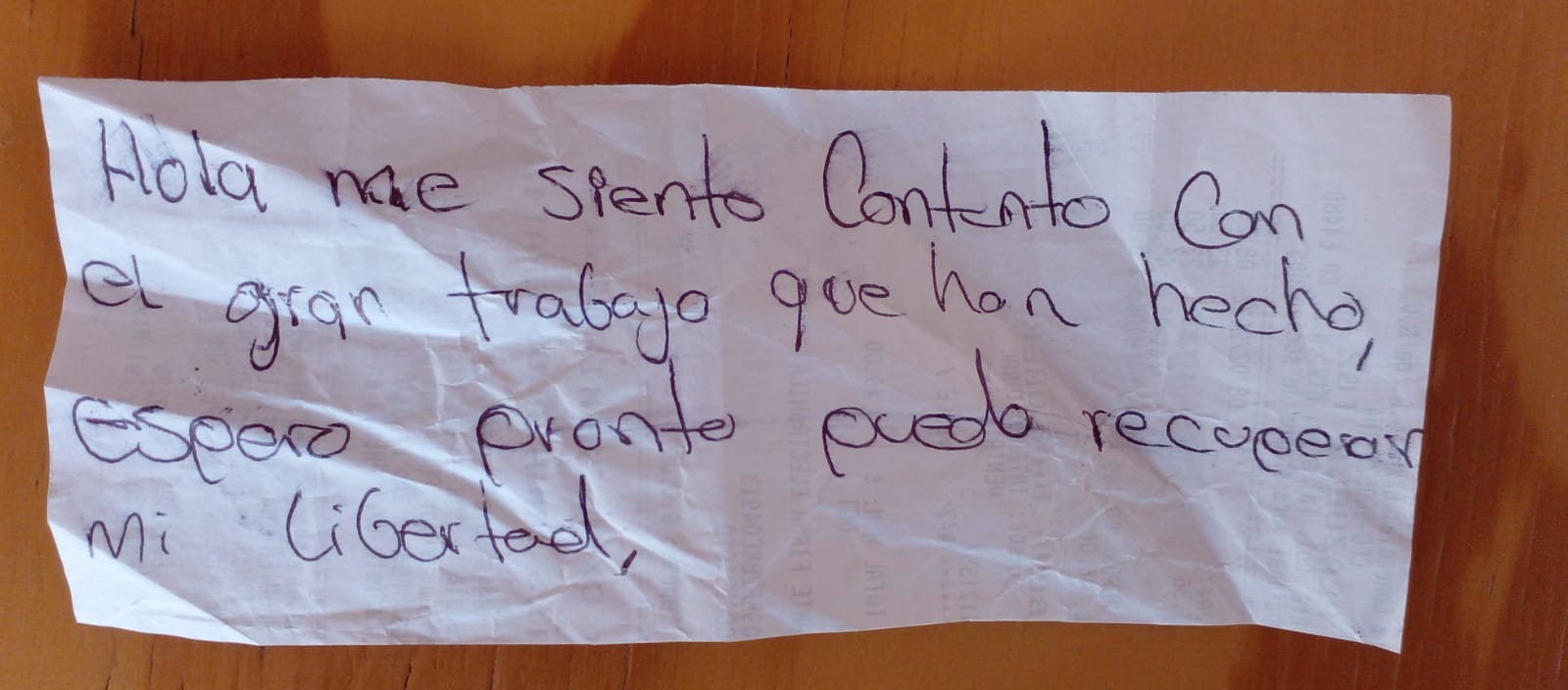 210210 message from Yonny Ronay: "hello, I feel happy with all the great work you have been doing, I hope that I can get my freedom back soon".

On February 18th at 3 pm, Yonny Ronay Chacón's oral trial will continue at the court in Villaflores, Chiapas. SweFOR will be present, accompanying the defense attorneys from the Human Rights Center Fray Bartolomé de las Casas, Yonny and his relatives.